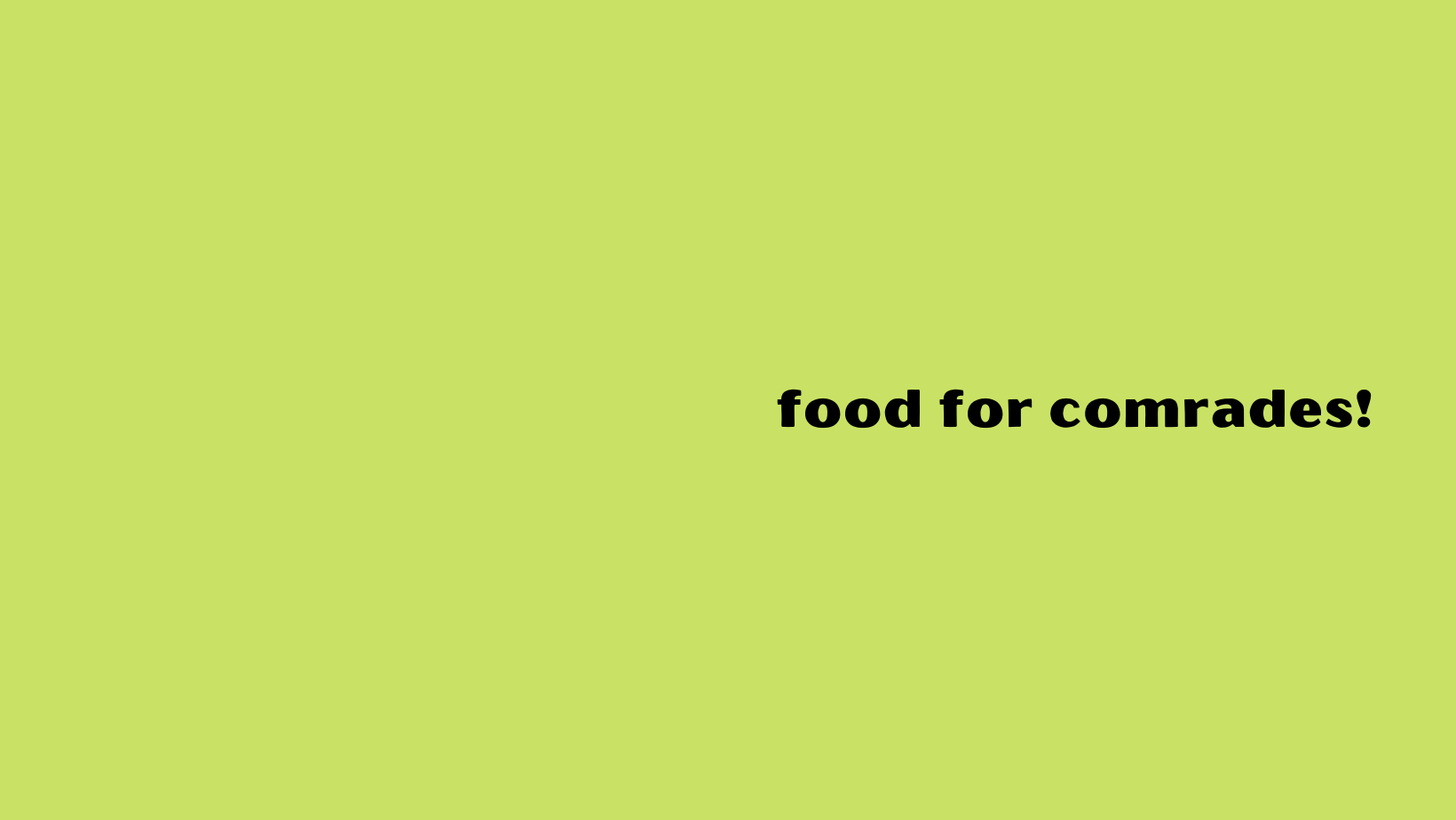 Free Food Collective
We recover perfectly good food that's destined for landfills and deliver it to unhoused folks living in West LA instead. Email [email protected] to get involved.
Contribute
---
Become a financial contributor.
Top financial contributors
Incognito
$2,750 USD since Dec 2021
Mike
$1,600 USD since Dec 2021
Brian
$1,000 USD since Mar 2022
Mutual Aid LA
$400 USD since Jan 2022
Denise and John
$200 USD since Nov 2021
Guest
$200 USD since Dec 2021
Nina Frazier Hansen
$200 USD since Mar 2022
Olga
$180 USD since Nov 2021
Guest
$160 USD since Dec 2021
Guest
$110 USD since Feb 2023
Margot Zack
$100 USD since Nov 2021
Guest
$100 USD since Feb 2023
Liliana A Tapia
$80 USD since Nov 2022
Erin
$50 USD since Dec 2021
Free Food Collective is all of us
Our contributors
33
Thank you for supporting Free Food Collective.
About
---
Welcome to Free Food Collective. 
We are abolitionists fighting for food sovereignty in LA.


Globally, 30-40% of all food is sent to landfills, where it emits methane gas (84x more potent than CO2!). Meanwhile 38 million people experienced hunger in the US in 2020. This is a humanitarian crisis and environmental disaster. We work to stop this on a local level by recovering excess food in LA and giving to people who need it instead. Since we started this project in May 2021, we have recovered over 25,000 pounds of fresh food.


Our work.
We recover fresh produce and prepared food on multiple days of the week. We are working on expanding as opportunities for food recovery and volunteer capacity become available. If you're interested in joining either team, we would love to have you.

Grocery Team:
Volunteers pick up extra produce from local farmers markets, and then we sort them into grocery bags for our neighbors. Transportation is a huge hurdle for unhoused folks, so we deliver the grocery bags directly to their encampments. We give fruit to folks who do not have access to cookware and vegetables for those that cook. We currently serve approximately 15 different encampments of various sizes all throughout West LA.

Meals Team:
Volunteers pick up excess prepared food from local events. We recover, reheat, and repackage the prepared food into individual meals for unhoused folks in West LA.

At-Home Meals Team:
Volunteers are delivered ingredients to make approximately 20 bagged lunches from the comfort of their own home. Ingredients are a mix of recovered food, supplemented by food items we may need to purchase to make the meals complete.


Mission.
Our ultimate goal is to end the commodification of our survival needs: food, water, housing. We reject a society that values profits over human needs. We do not accept that food is being sent to landfills, which are situated next to our poorest communities, while our city officials continuously leave our unhoused neighbors without access to food and the resources they need to survive.


How we plan to use our funds.
1. Expanding our efforts.
We plan to expand our efforts to recover more food, in particular prepared food. To do this, we will need access to cold storage, a repackaging kitchen, and to-go supplies.
2. Purchasing survival supplies.
Hot plates, crock pots, shelf-stable food, cooking supplies, tents, sleeping bags, clothing, hygiene kits, harm reduction supplies, etc. We prefer gently used second hand items for household items and clothing. Please email us to donate yours.
3. Maintaining our current work and supporting our volunteers.
We currently are able to self-sustain on very little to no money, using all donated materials. However, with the rising cost of gas, we would like to support our volunteers by reimbursing them for the gas they use when picking up and delivering produce.
4. Supporting our partner organizations, LA Neighbors for Neighbors and Palms Unhoused Mutual Aid.
We provide groceries and food for
LA Neighbors for Neighbors
, an organization that puts on a monthly resource center for unhoused folks living in West LA. We support
Palms Unhoused Mutual Aid
, an organization that supports our unhoused community through weekly harm reduction efforts and thoughtful outreach at encampments in West LA.
Composting
All of the food we recover that is not fit for consumption is composted. Once our compost is ready, we give it to one of our unhoused neighbors that has a lovely garden. This extra step builds a truly sustainable, circular food system; and ensures no food goes to waste.
Connect
---
Let's get the ball rolling!
News from Free Food Collective
Updates on our activities and progress.
That's a wrap! Our 2022 year highlights!
Before we head into the new year, we wanted to take a little time to reflect on the beast that was 2022! Thanks to our donors and volunteers, we were able to grow our small organization in a sustainable way, and we look forward to new endea...
Read more
Happy Giving Tuesday!
Happy Giving Tuesday everyone! We really appreciate you and your support. Here's what we have been up to lately! Thanksgiving at Project Roomkey Last week we hosted a Thanksgiving event for folks at two nearby Project Roomk...
Read more
Budget
---
Transparent and open finances.
Total disbursed
$6,499.78 USD