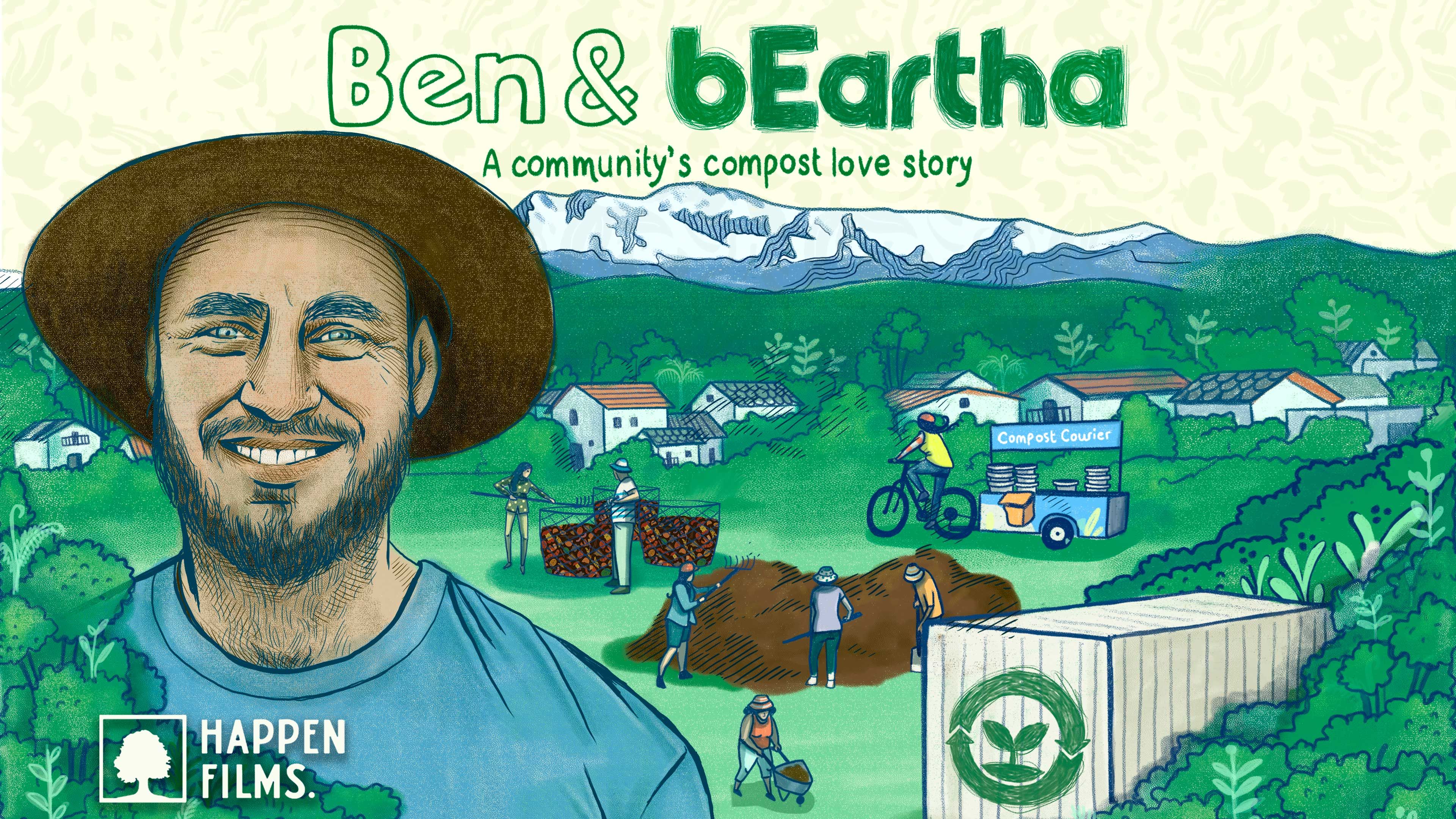 Ben & bEartha: A Community's Compost Love Story
A 40-minute documentary about a compost nerd, a group of compost heroes, and a machine that's about to revolutionise regional composting. Can you help us reach our funding goal of a final NZ$15,000 to make this film Happen?
Contribute
---
Become a financial contributor.
Financial Contributions
Donate
Make a one-time contribution of the amount of your choice to the production costs of this film. This option doesn't have a reward connected to it ... Read more
$44,780.02 NZD of $48,664 NZD raised (92%)
Ben & bEartha: A Community's Compost Love Story is all of us
Our contributors
150
Thank you for supporting Ben & bEartha: A Community's Compost Love Story.
Annette
Private Compost Club Consul...
$250 NZD
barbtim
Private Compost Club Consul...
$250 NZD
About
---

Composting food scraps seems like such a small and simple act, but it's one of many crucial solutions to addressing climate change, reducing waste, and creating a regenerative food system. In this film we get to know Ben – compost nerd, compost educator, instigator of his local Compost Club, and creator of bEartha, the machine that's about to revolutionise regional composting.
Check out the official film trailer below.
Why this film? 
The enormous amounts of food waste being dumped in the world's many many landfills day after day is a huge contributor to climate change – the methane generated from its anaerobic decomposition is a potent greenhouse gas.
 
Right now, governments are making decisions about the future of food waste. Generally the proposed solutions tend to be large-scale, centralised, and wasteful in themselves. We feel passionate about empowering communities to provide these solutions instead, in a way that values compost as a precious resource, creates and strengthens social connections, provides meaningful work, and operates within a circular economy model.

This film will explore these solutions and highlight the wide ranging benefits to communities, in order to contribute to the discussion on how we tackle food waste globally.
What's the story? 
"I don't want to see food waste go into the landfill when we can actually create soil from it."
– Ben Bushell, Community Compost

The story follows the highs and lows for Ben and his team as they develop and install bEartha, a composting machine that they hope will provide a replicable model for communities. Woven throughout this journey is the story of the Compost Club, a small-scale, volunteer-based composting initiative, and the development of a small urban farm alongside.
 
We'll also be exploring: 
* what it's taken to set up a community composting space and a food waste collection scheme,
* the development from scratch, with lots of trial and error, of a large-scale composting machine, 
* the challenges in obtaining funding, 
* why community composting education and facilities are so important, 
* What makes Ben tick! Why he's so passionate about this project, what drives him, and how he's supported by family and community (spoiler alert: he's the sweetest guy!).
Why support this film?
This film will educate and inspire people the world over about the why and how of composting. Our aim is also to inspire regional councils to support community-empowering composting initiatives.
We want our audience to feel so inspired after watching this film that they come away eager to get started – be it by getting underway with composting in their own backyard, by joining or starting a community compost programme, or following Ben's path to large-scale community composting.
Like most of our films, this one will immediately be available free to view on YouTube to maximise its reach.
We're also considering what kind of resource kit we could co-create with Ben to help support the emergence of similar projects across the globe – how can we contribute to making Ben's work replicable anywhere?
What difference will your contribution make?
Your financial contribution will make it possible for Happen Films to create a high-quality, engaging, super-shareable film that can be offered free to the world.
And if we're able to source funding over and above the cost of producing the film (see budget details below), we'll use the surplus to create a resource kit that will help people take their first steps in starting a community compost initiative themselves. This could include:
* how to work with councils,
* how to write great funding applications,
* where to start with site, community, and creating intention,
* and everything else Ben and his team have to share from their experiences.
Let's make community composting a global response to climate change!
How and when will it be produced?
Production details
Filming is underway and because we've been following the process of bEartha's installation we've been editing as we go, so post-production is also underway!
Time frames
Filming began in July 2022 and we expect to wrap up in March/April.
Post-production is underway (editing) and sound mix and colour grade are booked for May.
Release is to be combined with the launch of the Nelson Tasman Climate Forum's event Climate Action Week, end May 2023.
Budget
Production – director, producer, writers, sound recordist: $26,220 NZD.
Post-production – transcription services, editor, colourist, royalty-free music, sound mixer, post-production management, poster art: $17,100 NZD.
Production overheads – travel, food, insurance, gear hire, contingency: $5,344 NZD.
Total: $48,664
Location
Whakatū Nelson, Aotearoa New Zealand.
Release
A premiere will be held in Whakatū Nelson on 27 May. Following that the film will be made available for public screening with a license and ultimately it will be hosted on the Happen Films YouTube channel and website.
Connect
---
Let's get the ball rolling!
News from Ben & bEartha: A Community's Compost Love Story
Updates on our activities and progress.
Budget
---
Transparent and open finances.
Total disbursed
$45,207.41 NZD