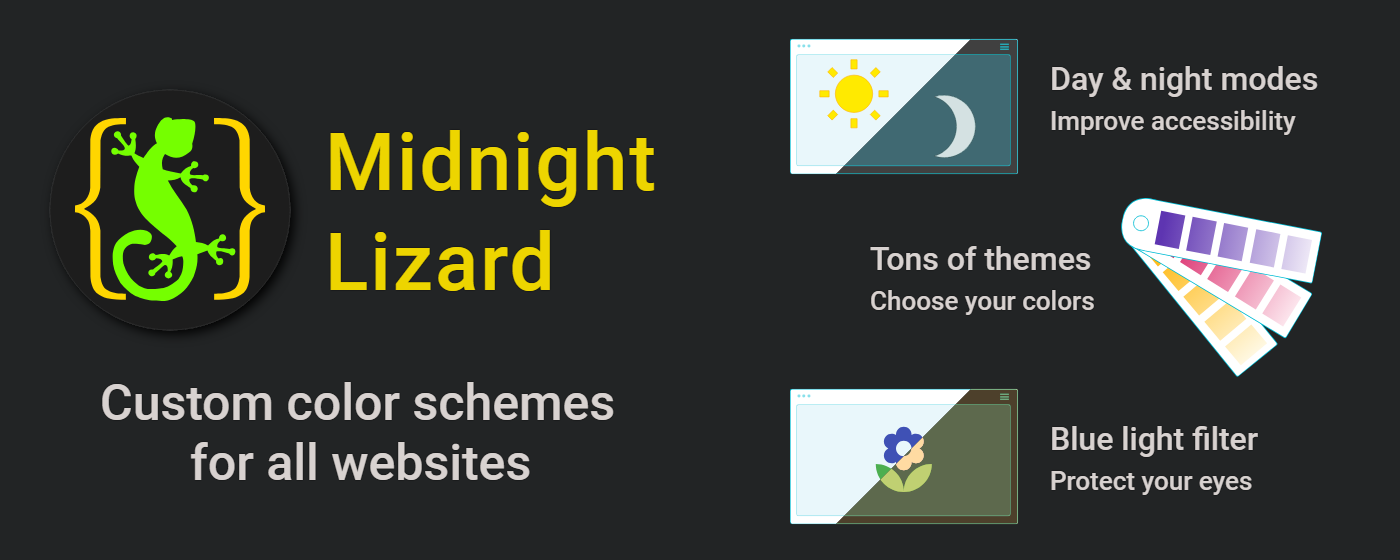 Midnight Lizard
Custom color schemes for all websites
Become a contributor
Top financial contributors
Individuals
DQW
$20 USD since Jul 2020
Incognito
$10 USD since Apr 2020
What's new with Midnight Lizard
Stay up to dates with our latest activities and progress.
💌 Happy Valentines Day from Midnight Lizard 💖
Happy Valentines Day!With the new midnight-lizard.org impressions feature you have a new way to express your love to… your favorite color schemes 💝🎨👍In the future we are going to use user impressions to select which color schemes should ...
Read more
Budget
See how money openly circulates through Midnight Lizard. All contributions and all expenses are published in our transparent public ledger. Learn who is donating, how much, where is that money going, submit expenses, get reimbursed and more!
Financial contribution to Midnight Lizard (sponsor)
from Kurt Dietrich II • 9/2/2020
Today's balance
$298.74 USD
Estimated annual budget
~ $164.12 USD
Midnight Lizard is all of us
Our contributors
49
Everyone who has supported Midnight Lizard. Individuals and organizations that believe in –and take ownership of– our purpose.
About
As many would expect from open source - developers in Midnight Lizard work for free. But we still need to cover our infrastructure expenses like website hosting, domain name rent, etc. Currently we are building a custom color schemes registry website for Midnight Lizard web-extension. Anyone will be able to use it for free: publish new color schemes or install existing.