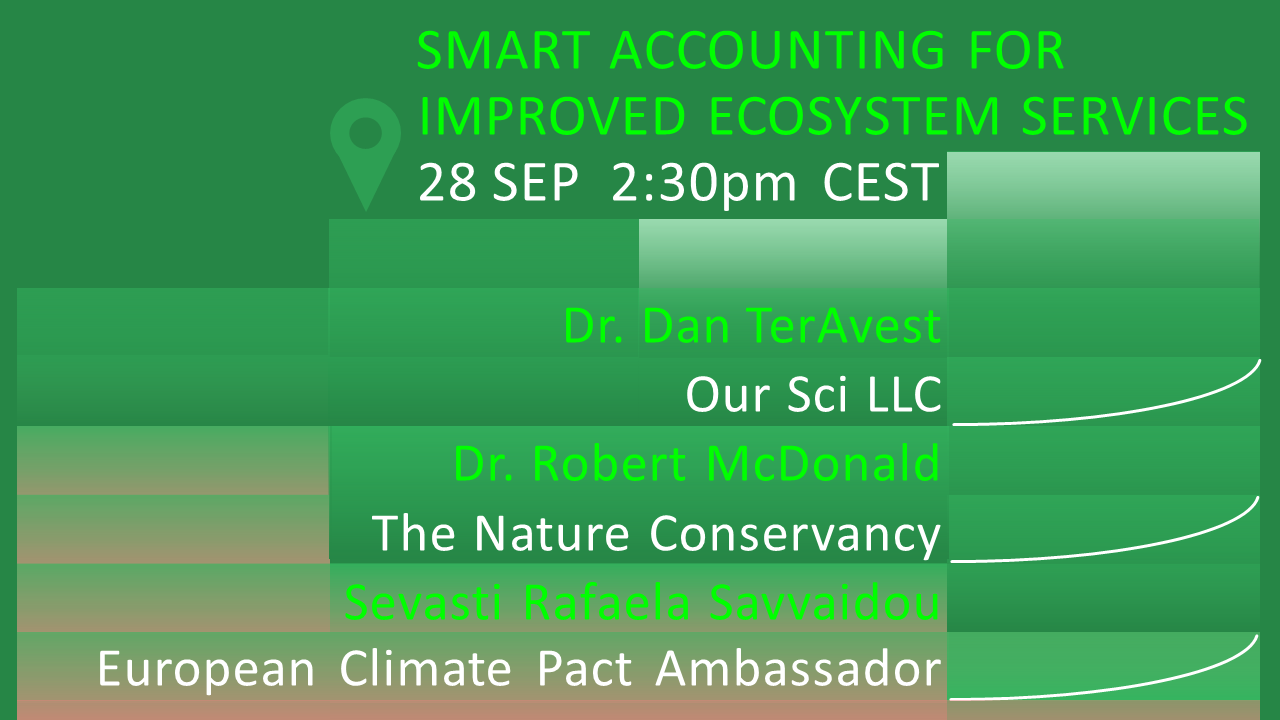 Smart Accounting for Improved Ecosystem Services
Wednesday, September 28, 2022, 2:30 PM - 3:30 PM (UTC+02:00)
Connect
---
Let's get the ball rolling!
News from Smart Accounting for Improved Ecosystem Services
Updates on our activities and progress.
Your next opportunity: Join us 28 March
Dear interested, we would be delighted to welcoming you for a lively discussion at our next online event: 28 MARCH 2022 [ 10:00am EST / 4:00pm CEST ] featuring Natural Areas Conservancy NYC &...
Read more
About
---

We would be delighted to welcoming you for a lively discussion:

28 SEPTEMBER 2022 (Wednesday)
08:30am EDT
02:30pm CEST
👉 Sign up here = Get the Meeting Link

We look forward to inspiring impulses from:
Dr. Robert McDonald, Lead Scientist for Nature-Based Solutions, The Nature Conservancy

Dr. Dan TerAvest, Soil Scientist & Cofounder of Our Sci LLC*

Sevasti Rafaela Savvaidou, European Climate Pact Ambassador, European Commission & MS Food Technology, University of Hohenheim

including: 25min Q&A


Themes
Let's leverage our meeting opportunity together, explore overlap and exchange about Smart Accounting for Improved Ecosystem Services:

How can we improve natural infrastructure for enhanced ecosystem services & climate resilience?

How can we measure improved ecosystem services?

How can we enable communities to measure climate resilience on landscape and city scale?

How can we have confidence in the data generated by those measurements? 

*Background
Proofing Future member Our Sci LLC evolves judgement free, open source tools for comparability of data for projects and communities in contexts spanning Public Science, Distributed Manufacturing, Regenerative Agriculture and Ecosystem Services Markets.

Primary users of Our Sci's tools today include Beneficial Bio, the Bionutrient Food Association, the Ecosystem Services Marketplace Consortium (ESMC), the U.S. Department of Agriculture (USDA), OpenTEAM (US) and CarboFarm (Europe).

Platform
Proofing Future: Bridging People + Ideas provides services to sustainability impact driven organisations, researchers & companies: We help you to get your stories out, to raise the connectivity of your capabilities, ultimately to increase your collaborative potentials.
Contact us here to talk collaborative opportunities, see our purpose & testimonials.

_

title image: CC BY-NC-ND 4.0 proofingfuture.eu
Budget
---
Transparent and open finances.