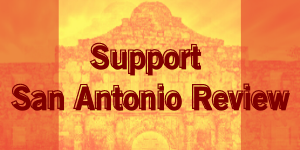 San Antonio Review
International literary, arts and ideas journal.
Connect
---
Let's get the ball rolling!
News from San Antonio Review
Updates on our activities and progress.
Now available: San Antonio Review (Volume V | Summer 2021)
Monday, September 20, 2021 Monday, September 27, 2021 Entanglees, We gave your inbox a break over August while we, depending on the collective member and without naming names, traveled, translated, procrastinated, edited, broke, neglected,...
Read more
Conversations
Let's get the discussion going! This is a space for the community to converse, ask questions, say thank you, and get things done together.
PubPub Submission Platform Ideas Survey
Published on December 26, 2020 by William Pate
SAR Contributors, We, like you, struggle to love the current PubPub submission and review process and platform. PubPub, like SAR, is still relatively fresh from its birth. Granted, PubPub hails from far more esteemed origins.) We intend to...
Contribute
---
Become a financial contributor.
Top financial contributors
Individuals
Robert Fromberg
$100 USD since Jul 2021
San Antonio Review is all of us
Our contributors
39
Thank you for supporting San Antonio Review.
Projects
Support the following initiatives from San Antonio Review.
Editing and publishing the first short story collection by Alex Z. Salinas, former SAR poetry edi...
Events
San Antonio Review is hosting the following events.
Budget
---
Transparent and open finances.
Total disbursed
$32,278.81 USD
About
---
Texas' international literary, arts and ideas journal.
San Antonio Review
publishes original essays, poetry, art, reviews, theory and other work twice a week on its website. Print issues are published twice a year in June and November. Founded in San Antonio in 2017,
SAR
is based in Austin, Texas.
San Antonio Review
is devoted to serving as a gathering space outside academia, the market and government for writers, artists, scholars, activists, workers, students, parents and others to express their perspectives and reflections on our shared world and help develop visions of our collective future. Funded by its publisher's income from his day jobs, donations and the sale of print editions and other materials and led and maintained by an all-volunteer editorial collective,
SAR
is not beholden to any institution, organization or ideology.
Learn more about us at
sareview.org/about
. Always read free online at
sareview.org
.
Find us on social media at:
Instagram:
instagram.com/sanantonioreview
Twitter:
twitter.com/SanAntoReview
Facebook:
facebook.com/sanantonioreview
LinkedIn:
linkedin.com/company/san-antonio-review
Discourse:
sar.discourse.group