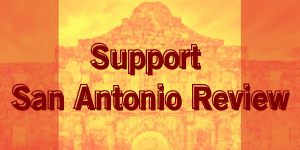 San Antonio Review
San Antonio's international literary journal.
Become a contributor
Top financial contributors
What's new with San Antonio Review
Stay up to dates with our latest activities and progress.
Get ready for Issue 3!
We're getting issue three prepared for printing and need help with printing costs (we haven't recouped the costs of issue two's print run yet). Please donate at Open Collective or via our
Read more
Budget
See how money openly circulates through San Antonio Review. All contributions and all expenses are published in our transparent public ledger. Learn who is donating, how much, where is that money going, submit expenses, get reimbursed and more!
Monthly financial contribution to San Antonio Review (Sub...
from John Bonanni • 1/1/2020
Close Open Collective Account Before Fees Kick In
by William Pate • 12/26/2019
Invoice #12661
web services
Financial contribution to San Antonio Review (Issue 3 Rec...
from David Matthews • 12/12/2019
Estimated annual budget
~ $198.75 USD
San Antonio Review is all of us
Our contributors
15
Everyone who has supported San Antonio Review. Individuals and organizations that believe in –and take ownership of– our purpose.
About
We are Texas' international literary journal.

We often hear that San Antonio is a "city on the rise." In truth, as the seventh-largest city in the nation, and one already reflecting the demographic shift the rest of the country will experience in the coming years, San Antonio is already a world-class city. The diversity of its community puts it on par with the first six metropolitan areas by population. Beyond its diversity, San Antonio is home to world-renowned cultural and educational institutions.


Nonetheless, it's important we not miss the importance of the letters and art that influence the city and emanate from it. The arts — letters not least among them — are integral to any city.


The San Antonio Review aims to provide readers with a critical, trusted resource for cultural criticism, reviews of cultural events, poetry, fiction and other items as we see fit for sharing with the wider public.


Indeed, it is our intention that the words and art published in these pages reach an audience far beyond the borders of San Antonio—beyond even Texas. We are San Antonio's international literary journal.