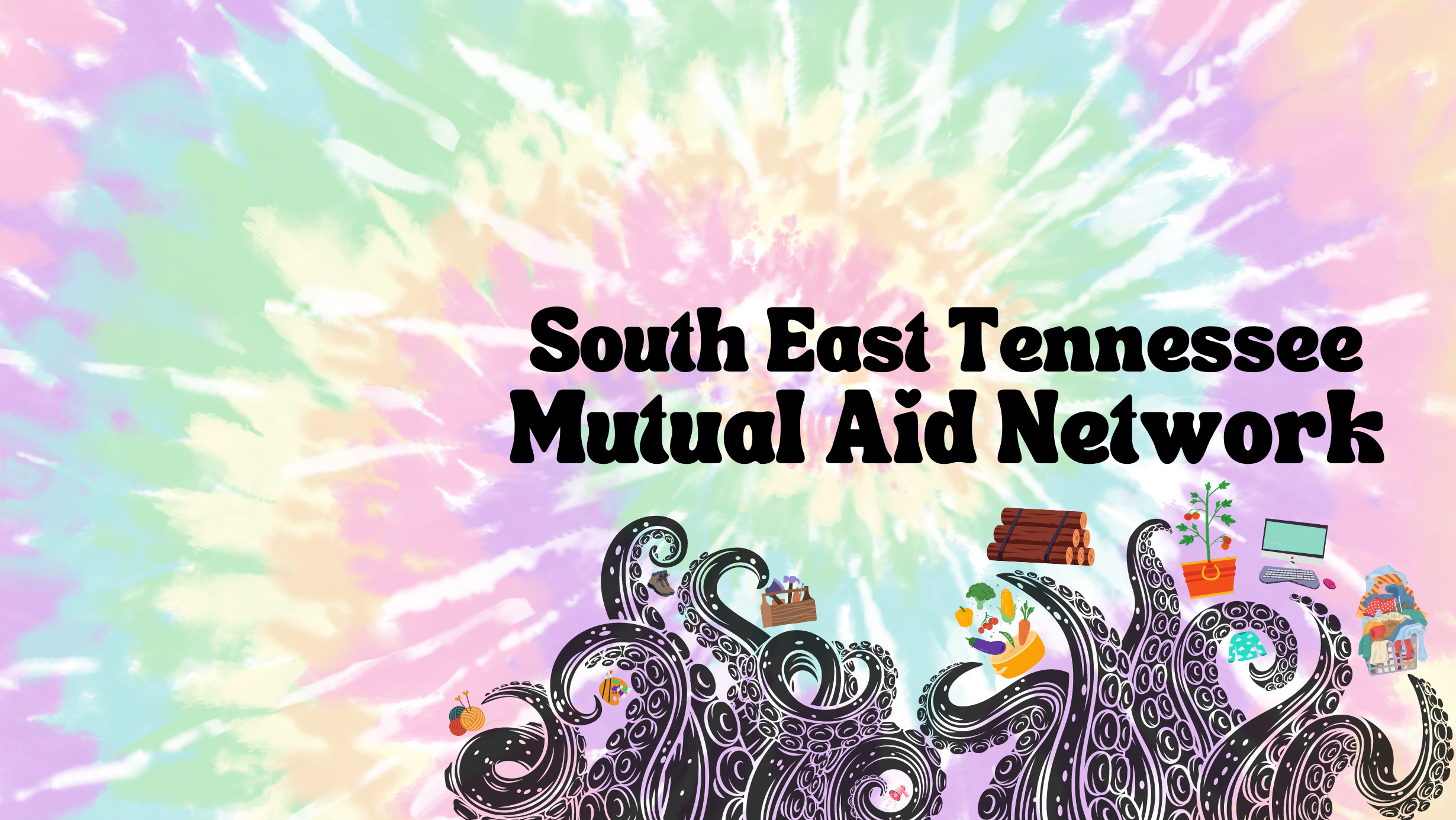 South East Tennessee Mutual Aid Network
The same mutual aid collective you know & love, formerly known as Cleveland, TN Community Resources.
Contribute
---
Become a financial contributor.
Events
South East Tennessee Mutual Aid Network is hosting the following events.
South East Tennessee Mutual Aid Network is all of us
Our contributors
13
Thank you for supporting South East Tennessee Mutual Aid Network.
Budget
---
Transparent and open finances.
Total disbursed
$738.42 USD
Connect
---
Let's get the ball rolling!
News from South East Tennessee Mutual Aid Network
Updates on our activities and progress.
Rebranding
We are the same group that you've come to know and love this year! We're just updating our brand to be more cohesive with the...
Read more
New Community Pantry
Thanks to a local business, The CCC, we will be putting up a new community pantry! Building is already in progress thanks to donations from Cheryl Howardd, and of course our builders, Brooke and Jonathon Ownby! We're just needing a few thin...
Read more
Conversations
Let's get the discussion going! This is a space for the community to converse, ask questions, say thank you, and get things done together.
Join Discord
Published on April 19, 2023 by Skye Lunny
Don't forget to join our Discord to talk with not only us, but the community. <3 We also share free events and resources regularly. ;)Discord: ...
About
---
The group was created in April 2022, but it really started to take off at the beginning of September 2022. Originally we were
Cleveland, TN Community Resources
, now in April 2023 we have rebranded and are
South East Tennessee Mutual Aid Network
.
We are a mutual aid collective that focuses on food insecurity, but we also provide a space for members in the community to reach out for help. Through the
Cleveland, TN Mutual Aid Network facebook group
, we share resources to members of the community, as well as provide a space for community members to crowdfund for emergency situations (impending eviction, getting electricity back on, car troubles, etc.). Mutual aid however is not just strictly for desperate needs, it also includes what some people may classify as "wants" (birthday gift, eating out, arts & crafts materials, etc.).
We also stock local
open community food pantries
, with food from
our personal funds,
and encourage members of the community to do the same. If you are unable to physically put food in the pantries, you can purchase something from the
community pantry wish list
, and one of our volunteers will get it deployed to the pantries.
We are constantly adding to a master list of resources in our city, which is available to anyone! If you know of something not on the
Resource List
, shoot us an
email
!
We also post things regularly to help folks save money, like local events, deals, grocery sales, etc.
Check out our LinkTree for our
Resource List
, Facebook Group, Instagram, & more.
https://linktr.ee/clevelandtnresources