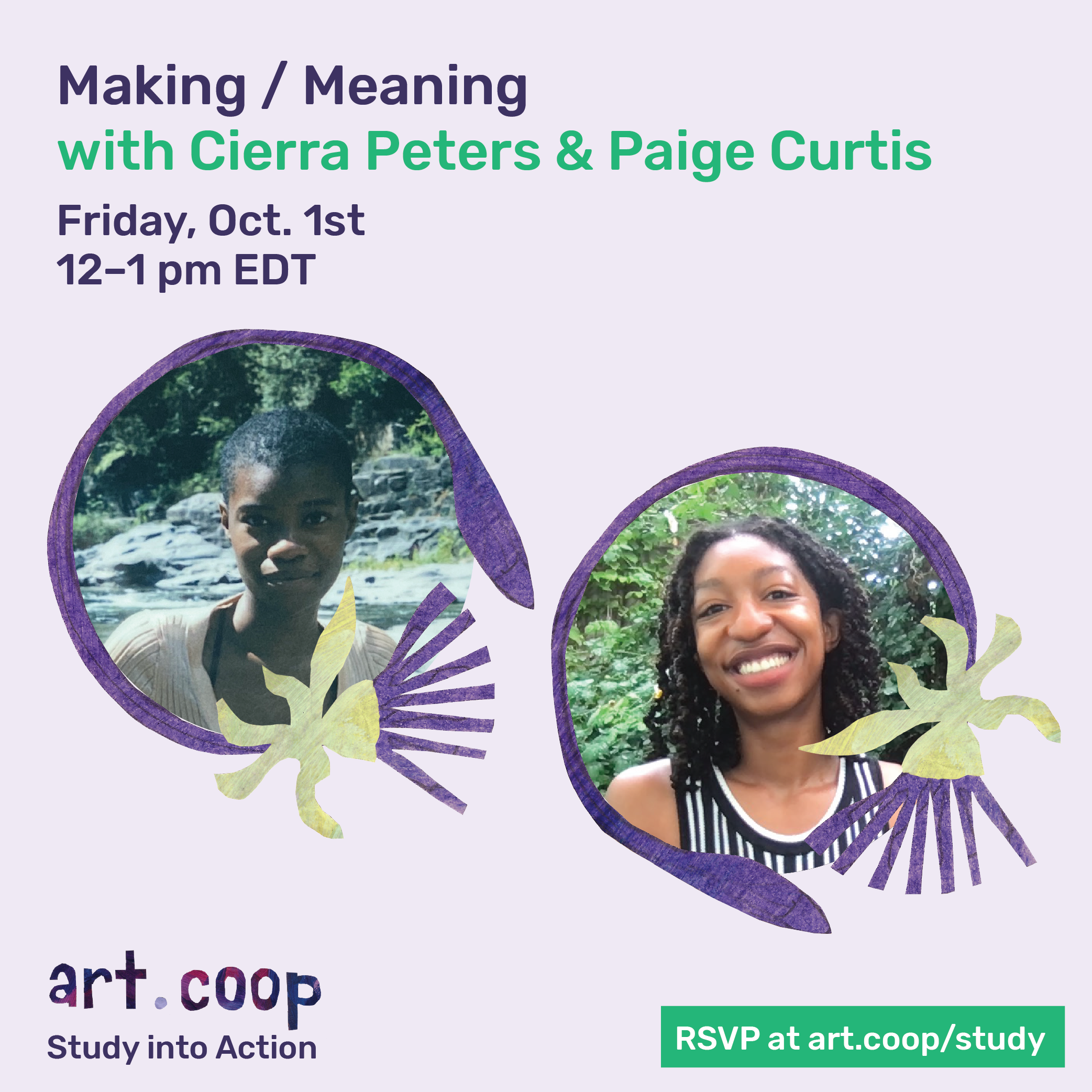 Making / Meaning
A live DJ set / jam session / zine making workshop with Cierra Peters & James Vamboi of the Boston Ujima Project to brainstorm and create music, media, and printed materials together 9:00 PT / 12:00 ET
Friday, October 1, 2021, 9:00 AM - 10:00 AM (UTC-07:00)
Contribute
---
Become a financial contributor.
Financial Contributions
Tickets $0 - $100
Please choose an amount that fits the needs of your financial reality. All ticket sales will go towards supporting Art.Coop in our vision of buildi... Read more
About
---
9:00 am Pacific Time // 12:00 pm Eastern Time


Join Cierra Peters & James Vamboi of the
Boston Ujima Project
for a live DJ set / jam session / zine               making workshop with  to brainstorm and create music, media, and printed materials together. 
Cierra Michele Peters
(she/they) is the Communications Director of the Boston Ujima Project, and an artist working across video, installation, text, and cultural organizing. Her recent projects include Print Ain't Dead, Converging Liberations Residency, and Black Feminist Study Hall.
James Vamboi (Chief of Staff, Community, and Culture)
: James is a social worker, visual artist and fundraising strategist originally from Philadelphia. He moved to Boston to serve on the City Year Boston 2012-2013 corps and never left. James cares deeply about people and the planet and is inspired by the work of the Justice Funders, Bayard Rustin and his Sierra Leonean aunties who taught him all about love. 
Budget
---
Transparent and open finances.