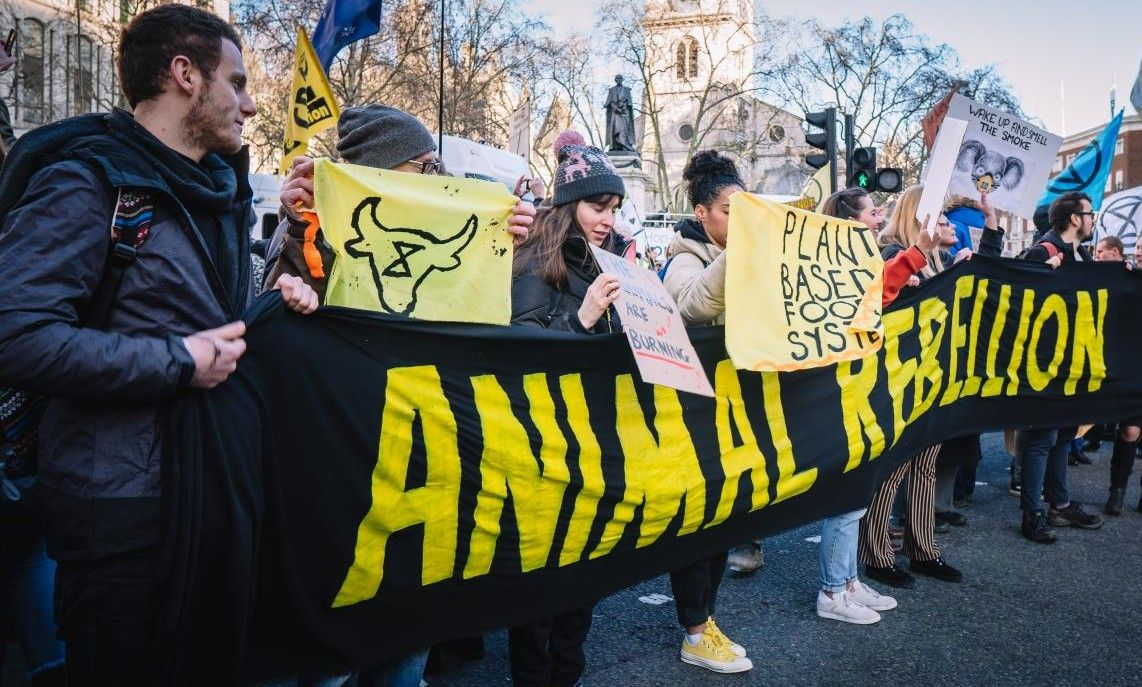 Animal Rebellion Deutschland
Wir sind das Finanzteam und unterstützen die Rebellion gegen die Tierindustrie.
Contribute
---
Become a financial contributor.
Financial Contributions
Wir freuen uns über jede Unterstützung. Read more
Starts at€10 EUR
Mit deiner regelmäßigen Spende gibst du uns Planungssicherheit und hilfst uns dabei eindrucksvolle Aktionen umzusetzen. Read more
Starts at€5 EUR / month
Top financial contributors
Individuals
Animal Rebellion UK
€1,220 EUR since Dec 2020
Incognito
€150 EUR since Oct 2020
Fesal
€100 EUR since Nov 2020
Incognito
€85 EUR since Apr 2020
verrueueckt
€80 EUR since Sep 2023
Animal Rebellion Deutschland is all of us
Our contributors
43
Thank you for supporting Animal Rebellion Deutschland.
incognito
COVID19 Soforthilfe für Leb...
€85 EUR
Lasst uns unsere nicht-menschlichen Freunde unt...
verrueueckt
Deine Spende GEGEN die Tier...
€80 EUR
Budget
---
Transparent and open finances.
Total disbursed
€2,838.00 EUR
Connect
---
Let's get the ball rolling!
News from Animal Rebellion Deutschland
Updates on our activities and progress.
In letzter Zeit ist viel passiert...
Liebe Unterstützer*innen, liebe Community, wir haben wieder ein paar Updates für euch: Neues aus den OrtsgruppenRebellion Wave in BerlinCOVID-19 Support für LebenshöfeSpendenaufruf Neues aus den Ortsgruppen...
Read more
Was für ein Monat!
Liebe Unterstützer*innen,zunächst möchten wir nochmal klarstellen, dass dieses Kollektiv nur legale Aktivitäten finanziert. Alle Rechnungen und Buchungen sind transparent einsehbar.Digitale und Dezentrale Rebellion WaveSpendenkampagne für L...
Read more
Neuigkeiten von Animal Rebellion
Liebe Community!wir haben wieder einige Updates für euch.Spendenkampagne COVID-19 Support für LebenshöfeDigitale und Dezentrale Rebellion Wave vom 12. - 21. JuniReguläre SpendenSpendenkampagne COVID-19 Support für Lebenshöfe
Read more
Conversations
Let's get the discussion going! This is a space for the community to converse, ask questions, say thank you, and get things done together.
About
---
Wer ist Animal Rebellion?
Wir sind eine antispeziesistische Bewegung in einer offenen Rebellion gegen das toxische System. Wir fordern die Beendigung der landwirtschaftlichen Tierhaltung und Fischerei und den Übergang zu einem gerechten pflanzenbasierten Ernährungssystem, um das Massenaussterben zu stoppen und den sozialen und ökologischen Kollaps zu verhindern.


Wieso mitmachen?
Wissenschaft
Die landwirtschaftliche Tierhaltung ist Hauptursache für Artensterben, Regenwaldabholzung, ozeanische tote Zonen, Wasserverschmutzung, Wasserknappheit, Lebensraumzerstörung und Zusammenbruch des Ökosystems.
Menschen
Die landwirtschaftliche Tierhaltung beansprucht 83% der weltweiten Agrarfläche, aber erzeugt NUR 18% der weltweiten Kalorien. Somit steht das derzeitige System kurz vor dem Kollaps. Das führt zu massenhaften Hungersnöten, Dürren und Klimakatastrophen, welche Millionen von Menschen zwingen wird, ihre Heimat zu verlassen.
Tiere
Tiere kämpfen täglich um ihr Überleben und wir wissen, dass das derzeitige System sie und ihr Leben nicht respektiert. Ein gerechtes pflanzenbasiertes Ernährungssystem ermöglicht eine nachhaltige Zukunft für alle Spezies.
Wenn du an Gerechtigkeit, Mitgefühl und Liebe glaubst, dann bist du bereits ein Teil von Animal Rebellion!
Gehe den nächsten Schritt und mach bei uns mit!
Kontaktiere uns!
Werd aktiv:
[email protected]
Allgemeine Anfragen:
[email protected]
[
PGP-Key
]
Finanzen:
[email protected]
[
PGP-Key
]
Presse:
[email protected]
Homepage:
https://animalrebellion.de/
Instagram:
animalrebellion_germany
Twitter:
RebelsAnimal_DE
Facebook:
animalrebellionDE