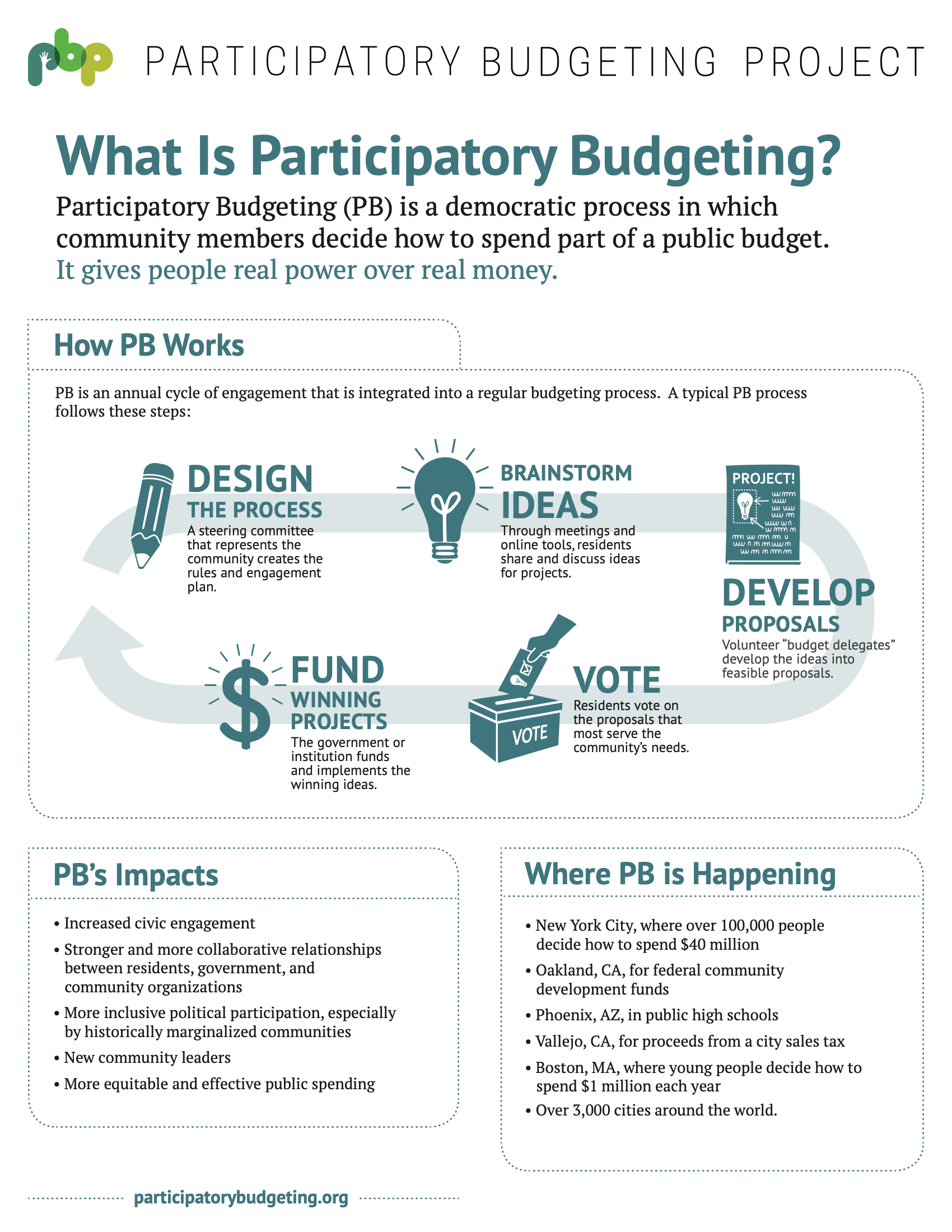 Participatory Budgeting for Orgs 101
Join Participatory Budgeting Project for an introductory training on how collectives can use participatory budgeting practices to deepen shared decision making in their work
Monday, September 12, 2022, 2:00 PM - 4:00 PM (UTC-05:00)
Connect
---
Let's get the ball rolling!
News from Participatory Budgeting for Orgs 101
Updates on our activities and progress.
About
---
Have you ever wondered what sharing real decision-making power could look like within your collective? Or do you already use democratic practices internally, but want to turn those practices into budgeting action?
Join
Participatory Budgeting Project
for this upcoming introductory exploration of participatory budgeting (PB) practices to learn more about how you can expand the possibility of shared and democratic decision making within your collective.
While some may be well acquainted with PB for public or institutional budgets, this practice can also make your organization more equitable, inclusive, and effective. PBP has been working for a new number years on their step-by-step
PB for Orgs Toolkit
to help organizations develop a PB practice that meets their needs.
Open Collective Foundation is committed to supporting its hosted collectives through Solidarity School with a range of democratic practices that can help them to expand their impact and deepen some of the values offered within our transparent budgeting infrastructure. We also hope in the future to design a participatory budgeting process that will place a portion of our foundation budget directly in the hands of our collectives.
During this training, participants will:
Learn how the PB process can work inside of organizations
Understand some of the benefits of PB, like sharing decision-making power and creating more equitable spending decisions
Reflect on the opportunities for and challenges of implementing PB within their organization
Training Outline
Welcome & Introductions (10 m)
PB 101 Overview (25 m)
PB 101 Activity (30 m)
Q&A or Report-backs (10 m)
Close-out (5 m)