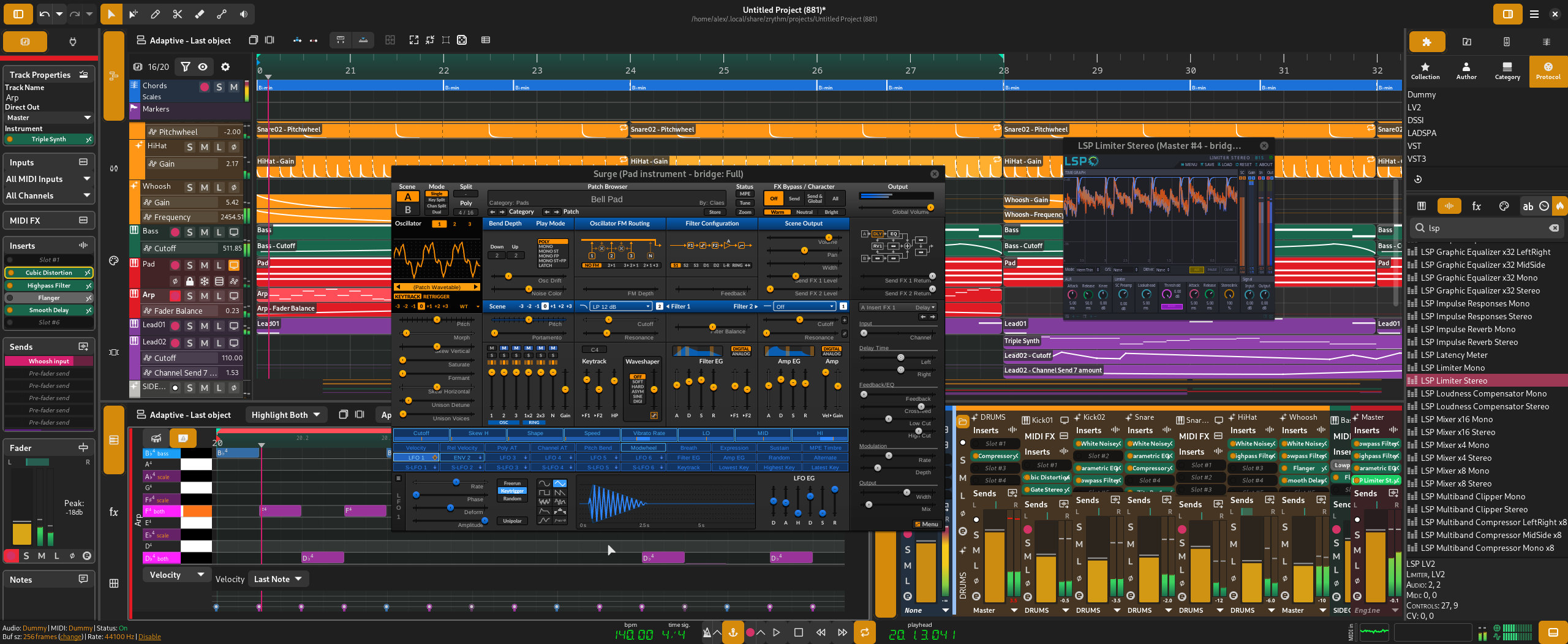 Zrythm
Creating free software for music production
Contribute
---
Become a financial contributor.
Top financial contributors
What's new with Zrythm
Stay up to dates with our latest activities and progress.
Zrythm 0.8.694 release
Zrythm v0.8.694 has been released!Changes in 0.8.694:Added- Allow routing from chord track to instrument tracks- Integration test for creating/deleting tracks using Helm- Add additional checks when tracks are added...
Read more
Zrythm 0.8.604 release
**Zrythm 0.8.604 has been released!**![Screenshot from 2020-06-26 22-49-15 (copy)|690x368](upload://8YuXKIAzXwu1lpAEZ1ytnkXEF3F.png) [Download it here](https://www.zrythm.org/en/download.html) or [view the whole changelog](https://git.sr.ht...
Read more
Zrythm v0.8.298 has been released!
Zrythm version 0.8.298 has been released! This version adds full VST2 support and experimental VST3 support.Changes:## [0.8.298] - 2020-04-18- Add full vst2 support via carla (32bit and 64 bit)- Add experimental vst3 support via carla (w...
Read more
Budget
---
Transparent and open finances.
Today's balance
$196.27 USD
Estimated annual budget
~ $396.83 USD
Zrythm is all of us
Our contributors
6
Everyone who has supported Zrythm. Individuals and organizations that believe in –and take ownership of– our purpose.
About
Zrythm is a digital audio workstation designed to be featureful and easy to use. It allows limitless automation, supports LV2 plugins, works with the JACK audio backend, provides chord assistance, is free software and can be used in English, French, Portuguese, Japanese and German.

It is written in C using the GTK+3 toolkit and uses the meson build system.