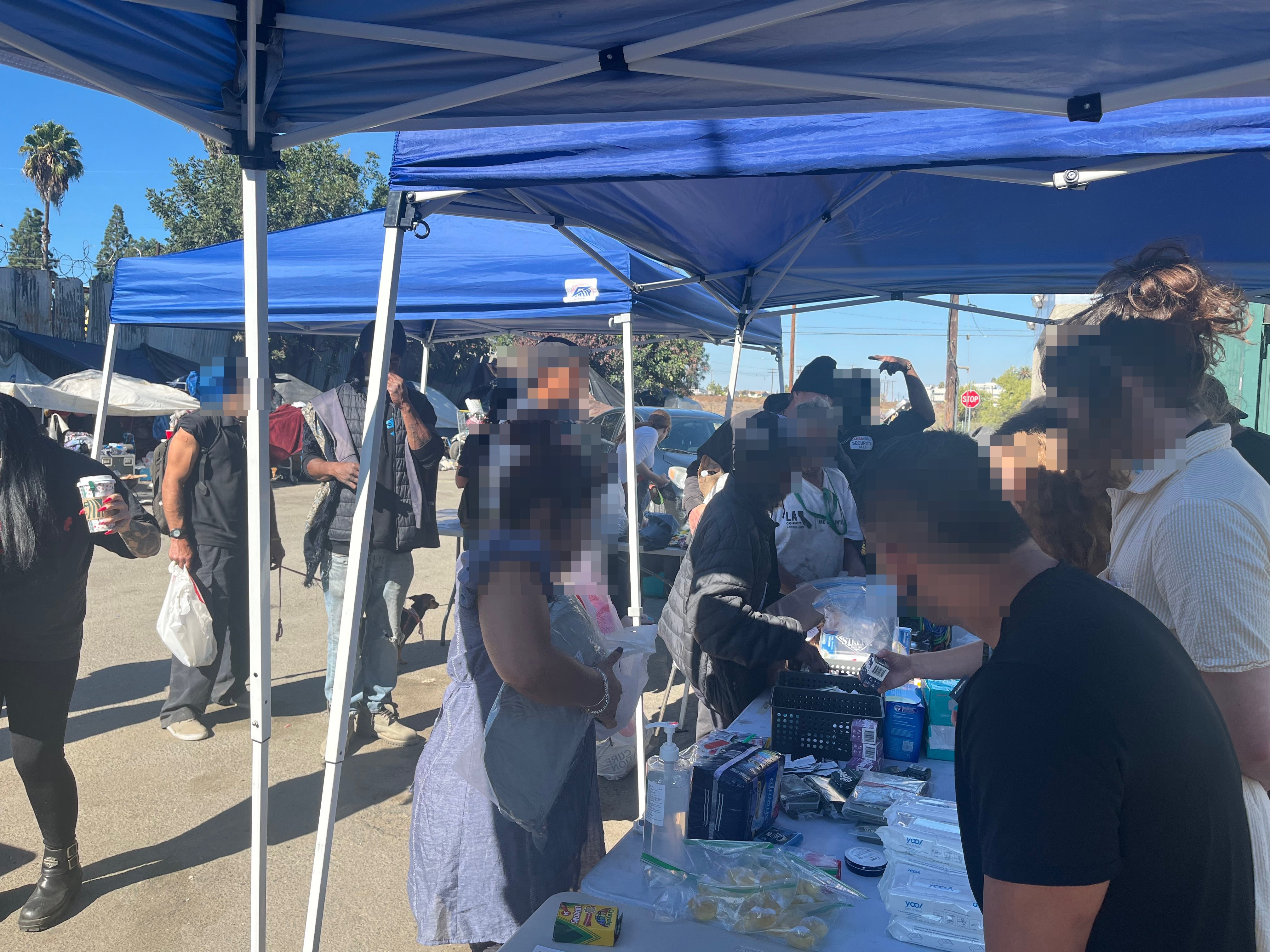 South Bay Mutual Aid and Care Club
We work in solidarity with our neighbors living unhoused in the South Bay of LA through mutual aid distro at encampments and other support.
Contribute
---
Become a financial contributor.
South Bay Mutual Aid and Care Club is all of us
Our contributors
95
Thank you for supporting South Bay Mutual Aid and Care Club.
About
---
Background
Society has fundamentally failed its members under capitalism, as evidenced by the unjust criminalization of poverty and state violence that unhoused people face. Due to this systemic failure, our unhoused neighbors have many needs that go unmet. We organize with our unhoused neighbors to resist & abolish the systems that cause these harms. 
Over 60,000 people live unhoused in Los Angeles. There are neither enough shelter beds, nor adequate affordable housing, to shelter them all. Homelessness disproportionately affects Black, Indigenous, queer, and/or disabled people.
We are trying to meet their needs.
We do this because everyone deserves respect, compassion, & the resources to not just survive, but thrive as fellow human beings.


Goals
Decriminalization of poverty
Universal housing as human right
Building community, relationships, & solidarity with encampments & other aligned organizations to hold each other accountable and aid each other
Record, share, honor, uplift, center, celebrate unhoused experiences & voices
Abolition of the police & prisons
Uplift the work of unhoused, Black, Indigenous, disabled, and queer organizers
How funds will be used
Mutual aid
Mutual aid is at the heart of our work. We prioritize using funds to purchase items our neighbors living outside tell us they need. Common items we provide weekly are:
Tents
Hygiene supplies like shampoo, soap, dental care items, menstrual care items, and bug spray
Water and ice
First aid items
Pet supplies
Mobile showers and hand washing
Medicine
We also support our neighbors by assisting with expenses such as:
Transportation
Tickets
Replacing identification
Vet and medical care
Sweep recovery
Larger projects and activities
Movie night! Talent Show! Art Day! Press Conferences! Maximizing space for those living outside to be seen and heard, to express themselves, and to heal, are priorities. Working together on larger projects builds solidarity and community connection. We lead with love in these spaces.

Supporting partner orgs
We work collaboratively with coalition partners throughout LA County on projects related to mutual aid, harm reduction, and abolition. We prioritize supporting the work of orgs lead by unhoused and BIPOC organizers.

Organizing supplies
A small amount of funds are used for supplies to support our work such as coolers, tables, stationary, etc...


Why not just give cash to unhoused people?
We often do! We are in full support of the autonomy of our unhoused neighbors. At the same time, not having access to credit, bank accounts, an address, or a safe place to receive packages, as well as hostile businesses, mean we are often asked to provide materials rather than cash. We see this as an opportunity to leverage the privileges of being housed in support of those outside.
Budget
---
Transparent and open finances.
Total disbursed
$10,809.95 USD
Connect
---
Let's get the ball rolling!
News from South Bay Mutual Aid and Care Club
Updates on our activities and progress.
Community outreach update: Nov 28, 2023
Hello lovely supporters! This has been a challenging year for our community. As Mayor Bass' "Inside Safe" program has ramped up, we have seen even more displacement of unhoused neighbors as they are moved between hotels, and exited from pro...
Read more
Sunday community outreach day: Nov 6, 2022
Every Sunday, our community organizers gather to serve a community of at least 120 unhoused people in the South Bay area. At least 70 unhoused neighbors came to our table today for free food and medical care. We provide free food, clothing,...
Read more