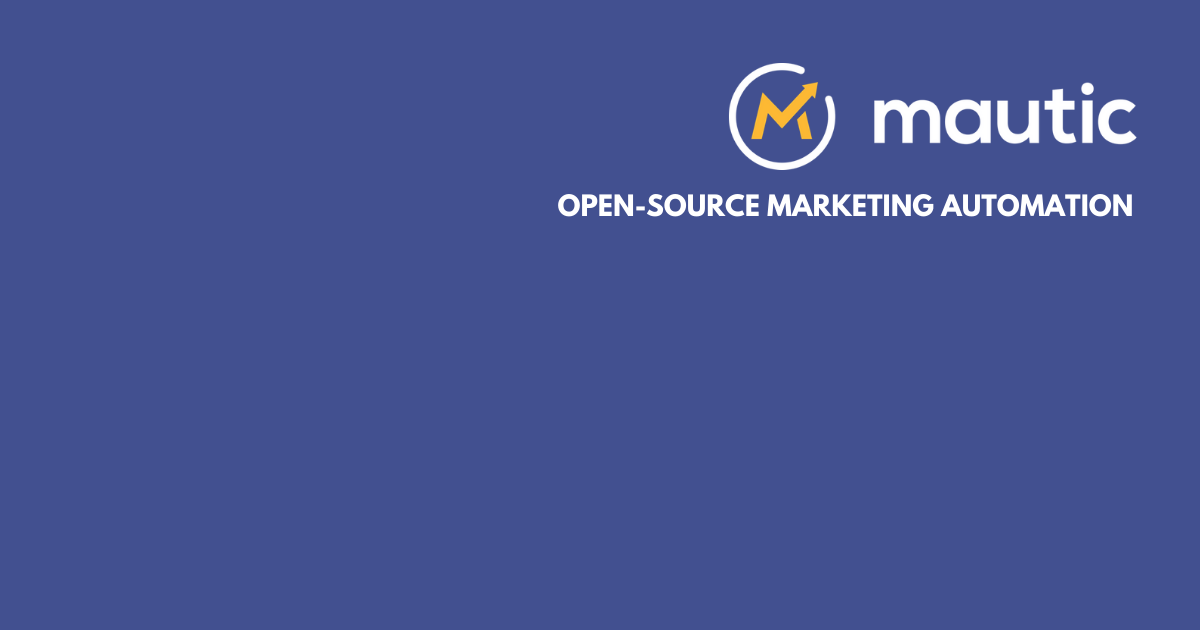 Mautic
Supporting the World's Largest Open-Source Marketing Automation Project
Contribute
---
Become a financial contributor.
Top financial contributors
Individuals
Media Giant Design
$1,600 USD since Feb 2022
OS Training
$938 USD since Jan 2021
Guest
$250 USD since Mar 2022
Jochen Grotepass
$150 USD since Jul 2022
ferienhausmiete.de
$100 USD since Sep 2022
Mautic is all of us
Our contributors
56
Thank you for supporting Mautic.
Connect
---
Let's get the ball rolling!
News from Mautic
Updates on our activities and progress.
Sponsors Update - April 2023
Hello awesome supporters of Mautic! What an exciting month it has been! Mautic becomes an independent open source project · By now, you may have already heard the fantastic news about Mautic's transition into a fully autonomous and independ...
Read more
Sponsors Update - March 2023
Hello awesome sponsors of Mautic! It's great to see the continued growth across the Mautic ecosystem as we all come together to build something bigger than ourselves. I've just published the...
Read more
Sponsors Update - February 2023
Hello amazing Mautic supporters! Here in the UK spring is just around the corner, and in Mautic too we have had an energetic and productive month! I attended two fantastic open source events at the beginning of the month -...
Read more
Budget
---
Transparent and open finances.
Total disbursed
$96,168.89 USD
Amount disbursed
$47,073.21
| Tags | # of Expenses | Amount (USD) |
| --- | --- | --- |
| infrastructure | 80 | $16,855.17 |
| consultants | 19 | $9,855.15 |
| mauticon | 36 | $5,667.68 |
| no tag | 7 | $5,360.57 |
| legal | 1 | $2,810.50 |
| marketing | 25 | $2,716.12 |
| Others Combined | 40 | $3,808.02 |
Amount collected
$60,980.70
| Tiers | # of Contributions | Amount (USD) |
| --- | --- | --- |
| one-time | 51 | $42,735.70 |
| recurring | 24 | $18,245.00 |
Contributions
---
Recurring Contributions
Amount contributed
$400.00 USD / month
Contributed to date
$5,836.00 USD
About
---
Mautic
began with a single focus. Equality. The Mautic community believes in giving every person the power to understand, manage, and grow their business or organization. Mautic is focused on helping this belief become a reality by getting powerful marketing automation software into the hands of everyone.
When David Hurley began Mautic he had a big goal. A plan to move horizons, and change the world. He foresaw Mautic as software made by the people and for the people and as such the community became a top priority and integral part. Those people interested in becoming involved in a community with a vision to change the world should consider getting involved in Mautic. People are the priority. Equality is the goal.


What is Marketing Automation?
The concept of marketing automation is not a new idea and the general idea of automated marketing is one which most are familiar with, though the terminology may be different. Here's a very brief overview:


Marketing Automation is a platform for saving time, eliminating errors, and improving efficiency for a wide range of marketing tasks across multiple channels.
What is Mautic?
Get Involved In the Mautic Community
Of course because Mautic is built and grown as a result of the community involvement your participation is instrumental in its long-term success.
You can quickly get involved in the
forums
or join us on
Slack
- also make sure that you sign up for the
mailing lists
to keep in touch with what's happening in the community. As you become more interested in diving deeper you can attend or volunteer to help establish or co-organize a Mautic Meetup close to you.
Governance
In 2020 we established five teams and the Community Council - you can read more about the teams and find how to get involved in our
Community Handbook
.

This Open Collective allows the Mautic Community to have transparency over its finances and provides a way for individuals and organisations to support Mautic.